Cains is delighted to announce that it has once again received exceptional rankings in the latest Chambers & Partners UK 2022 rankings, with the firm receiving high acclaim for its Corporate and Finance and also its Dispute Resolution work on the Isle of Man.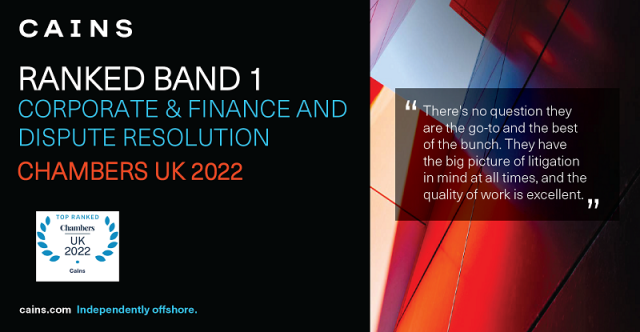 The highly respected legal directory, which identifies the best law firms globally, ranks both law firms and individual in bands from 1-6 based purely on client feedback in relation to technical legal ability, professional conduct, client service, commercial astuteness, diligence and commitment.
Published today (Thursday 21st October), the 2022 guide not only named Cains in the highest category, Band One, across its main practice areas of Corporate and Finance and Dispute Resolution, but the firm also achieved the most recommended advocates within the jurisdiction, with a total of 10 lawyers gaining special recognition.
In Dispute Resolution, Cains was once again hailed as the Island's acknowledged leader in complex commercial dispute resolution work and the team is described as "the go-to and the best of the bunch. They have the big picture of litigation in mind at all times, and the quality of work is excellent." Other clients praise the team for being "knowledgeable, professional and give sound advice that is easily understandable."
Ranked lawyers include Seth Caine, who has Senior Statesperson status; Peter Clucas, who is hailed as "an accomplished, knowledgeable lawyer who is good under pressure" and "one of the most experienced litigation lawyers on the island"; Robert Colquitt, who is recognised as "a standout lawyer for dispute resolution and litigation. He has been excellent, and has cut through extraneous information to focus on what the judge wants to hear." Managing Associate Tara Cubbon is recognised as an "Associate to watch" for the second year running.
The top-tier Corporate and Finance team is described as being "extremely responsive and give good, practical advice".
Six of the team were among the top ranked lawyers in the Isle of Man for corporate and finance transactions, including Tristan Head and Tim Shepherd whose "insight and sense of calm during stressful situations is comforting." Steven Quayle was noted as being "personable, efficient and effective and can be relied upon to act responsibly and professionally at all times." Praising Scott Leonard-Morgan, a client commented that "working with Scott was a very good experience; he provided good commercial advice as well as solutions to problems." Managing associate Stephanie Chew and Matthew Wilkinson are also recognised as 'Associates to watch'.
Peter Clucas, Managing Director of Cains, said: "We are once again delighted with the recognition Cains has received within this year's Chamber and Partners UK edition as it confirms our position at the top of the Isle of Man market for our corporate, finance and dispute resolution work.  We are very grateful to our clients for their contribution to our latest success and for providing such positive feedback for all our legal teams."
This impressive set of results follows in the footsteps of Cains being awarded six Tier One rankings by Legal 500 UK last month.