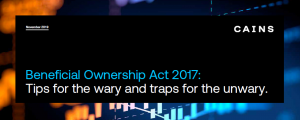 The Isle of Man prides itself on being responsive to international needs but at the same time maintaining a business-centric approach.
In line with its long-standing policy of positive engagement with international initiatives and standards, the Isle of Man Government made a commitment to the United Kingdom in 2016 to enhance arrangements to share information about the beneficial ownership of legal entities.
This commitment was made in an agreement signed by all Crown Dependencies and Overseas Territories.
Much has been said and written about the manner in which the Crown Dependencies and Overseas Territories were required to sign up to this commitment, as well as the regimes that have been established in the Isle of Man and elsewhere as a result.
We do not intend to repeat that here within this briefing. Instead, this article summarises the criminal offences that can be committed under the Isle of Man regime before offering practical guidance on the steps that can be taken to avoid committing those offences.
Click here to download the complete Isle of Man: Beneficial Ownership Act 2017 PDF.
---
How can we help?
Cains is able to provide clear, considered and tailored legal advice and administrative support necessary for ensuring that all of your needs are managed and executed in an efficient and timely manner.
The guidance in this note is for information purposes only and is not intended to be exhaustive. It is not intended to constitute legal or other professional advice, and should not be relied on or treated as a substitute for specific advice relevant to particular circumstances. Cains accepts no responsibility for any errors, omissions or misleading statements or for any loss which may arise from reliance on the information in this note.