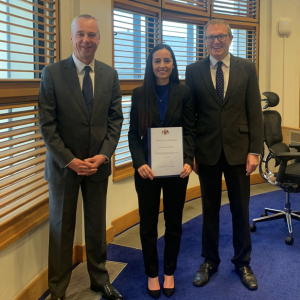 Cains is delighted to announce that Jess Whitworth has been formally called to the Manx Bar, having passed her exams in November 2021.  Jess was sworn in as an Isle of Man advocate by the Island's First Deemster, His Honour Deemster Corlett, at a formal ceremony on 11th January 2022.
Jess joined Cains as a trainee advocate in October 2019 having previously gained experience as a paralegal within the civil litigation department of the Attorney General's Chambers. Jess graduated from Northumbria University with a Masters Degree in Law and her postgraduate diploma in Legal Practice.
During her articles, Jess has worked closely with the Cains teams in each of the corporate and commercial, banking, finance, litigation and commercial property departments, working alongside the firm's Isle of Man experts.  She now works across Cains' top tier Corporate, Banking and Litigation departments and assists with advising on a broad range of acquisitions, disposals, property finance and litigation matters.
Jess commented: "I am delighted to have been called as a member of the Manx Bar. After several years of studying and training, I am looking forward to starting my next chapter at Cains as a qualified Advocate and the exciting challenges and experiences that brings with it.  I would like to thank everybody at Cains and at home who have been instrumental in helping me to reach this point in my career through their support and guidance."
Mike Edwards, Director, said: "All of us at Cains are extremely proud of Jess' achievement at being admitted to the Manx Bar.  Jess has shown determination, dedication and commitment to hard work to attain this.  Since joining Cains, she has shown herself to be a valued member of our leading teams and we look forward to seeing her develop through the next stages of her career."