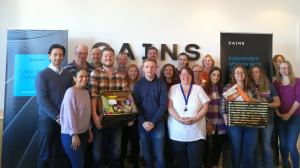 Cains is proud to be among those organisations that recognised and supported International Women's Day on Sunday 8 March – a global day to celebrate the social, economic, cultural and political achievements of women.
This year's International Women's Day theme was 'Each for Equal', which calls on everyone to work together to achieve gender equality and how a gender equal world can be healthier, wealthier and more harmonious.
Cains recognises that it is important when building a culture to promote equal opportunities in the workplace and we are committed to doing this. Therefore, in recognition of this year's International Women's Day and with the #EachforEqual theme in mind, Cains chose to support two local Isle of Man charities at the forefront of helping empower local women.
The Cains Board of Directors made a contribution to Love Tech, a local based charity that inspires and empowers girls to explore opportunities in STEM. The not-for-profit initiative is run by a group of local female business leaders and technologists on the Isle of Man who mentor young women.
Internally, staff also teamed up with the Women's Aid (IOM) and the Women's Refuge Shelter to donate much need items to the families who use the service.
Staff donated a selection of both adult and children's items to the shelter. Shower gel, soap, bubble bath, bath bombs, shampoo & conditioner, toothpaste, tooth brushes and skincare products were among a range of much needed items donated.
The boxes were presented to Thelma Lomax by marketing manager, Carrie Allen-Snell and Litigation associate, Andrew Langan-Newton.