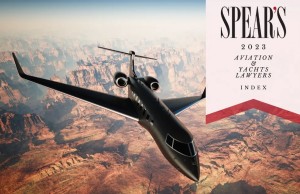 Cains director Steven Quayle has been recognised in Spear's Magazine's new 2023 Legal Indices as a Top Recommended Aviation & Yachts Lawyer – the second consecutive year he has been ranked.
He is the only Isle of Man lawyer to be named in the newly published Aviation & Yachts rankings which includes only 27 leading lawyers from across the UK, France, Germany, Hong Kong, and the USA.
Launched in 2014, The Spear's 500 is a guide of the best private client advisors, wealth managers, lawyers and service providers for high-net-worth individuals and is largely considered the byword for quality advice and recommendations based on excellence.
The rankings are exhaustively compiled by the Spear's Research Unit and comprises in-person and telephone interviews, peer reviews, analysis from subject matter experts and information gathered from clients, advisers and firms themselves.
Steven has over 20 years' experience of advising on domestic and cross-border asset finance, but with particular focus on business and commercial aviation, ship and super-yacht finance. He regularly advises on insolvency and enforcement actions against Isle of Man companies, ships and aircrafts and is a retained adviser to a wide range of clients including banks, asset financiers, multinationals, trust companies and Ultra High Net Worth Individuals.
This recognition follows a successful year for Cains' shipping and aviation practice, having again achieved a Tier 1 ranking in Legal 500 2023.